generative.org auf myspace facebook youtube, weitere Projekte: ARE artistic research encounters, Experience Art!



____________________________________________________________________
true-to-scale 3d print of the German repeating rifle Mauser98
Informations:
I hold an Lightning Talk at GPN14
Project presentation slides and Audio recording (starts at 58:16 min) at re:publica 2014 session #rp14


The 3d printed m98 will be shown at art exhibition at Garnisonsfriedhof Mitte. Verein Gernisonsfriedhof, Medienwerkstatt des BBK, Galerie Walden and other locations
I will start a crowdfunding project soon.



ABOUT THE PROJECT
One hundred years ago the Hurra-Patriotism was present all over Europe. The world didn't know yet what an industrialized world war would mean to mankind. Beginning of August the "1914 spirit" (Augusterlebnis) let many men to euphorically to the front lines. Already in September the suffer of losses were so high that wide parts of the troops were traumatized.
My Motivation
My personal family history - as for many people in Europe - is deeply influenced by the experience of the world wars. My father fleed from East Prussia and had to grow up as orphan in the after war time. There are no family books left. As it happens in war, culture and history is deleted by the victors.
My mother was fathered a xmas 1943, Februar 1944 her father died somewhere in Russia, place unknown. Comerads who accompanied him in the last minutes were never asked by my family.
Still there is a lot history unspoken, unasked.
Taboos are not even realized.
Especially we Germans are not used to ask.

As war is always deeply bound with traumatic experiences of people.




3D-Modelling war reality




"Nous devons enfin commencer à prendre au sérieux les objectivations volumineuses du passé pour les rendre exploitables par le futur."
Siegfried Zielinski



So I had the idea to make war reality concrete and modeled the most used gun of the ordinary soldier of the first world war in 3d. I had to understand how the gun works to model it.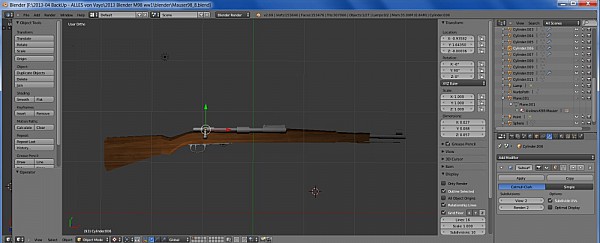 When I saw the virtual gun I thought it be great to have real model of it, as an make a forgotten, unasked object real, to give physics to a fictional memory. To unarchive history and bring it to the present reality with present technology realizable with my skills.
My model for 3d printing wasn't printable. It had to be modeled again and reworked with the 3D-Online program netfabb. So I learned homebrewed 3d printing is still an experiment...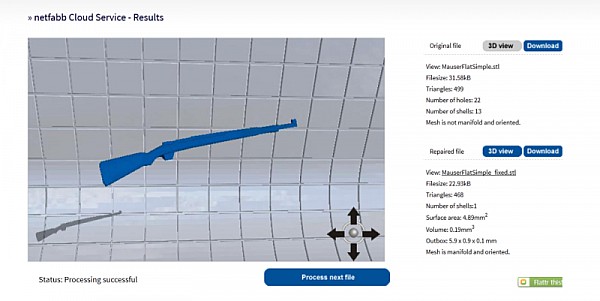 crowdfunding
I set up a crowdfunding project #nomoreweapons for the print costs of the true-to-scale 3d printing of the Mauser98


Actions
The first prints I sold as brooches with flowers at the Yami Ichi internet black market at the media and art festival transmediale Berlin, Feb 2014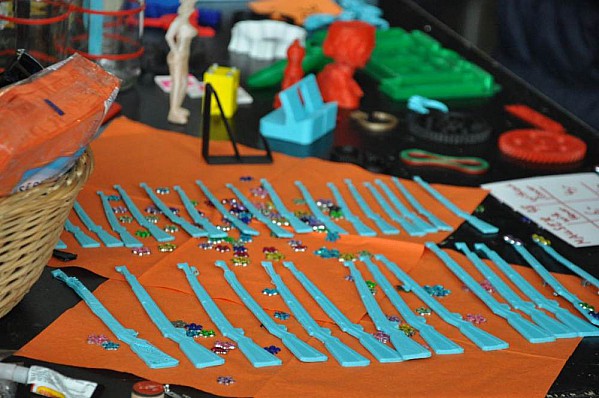 Next presentation:
The session guns, sex and rock'n'roll as 3d prints at re:publica
May, 7th 2014 - 16:15 to 17:15
I'll speak together with the guys of Youin3d.com Jan Northoff, Angelo wischi, Wyszengrad, Samuel Carlisle, Henning Diesenberg
More infos about re:publica 2014 "guns, sex and rock'n'roll as 3d prints"