Update coming soon (see German Version)
- June 5th-12th 2009
"SPECTRUM" and "Mulching Feedbacks" at
iD Festival, Gorzow (Poland), infos in English at Salon Bruit Blog: iD Festival


- June 13th 2009
Experience Art! zur Langen Nacht der Wissenschaften an der TU Berlin
For the fourth time EXPERIENCE ART! shows an programm at the technical University in Berlin


-June 27th 2009
"KlangBildEnsemble ad Hoc", at 48 Stunden Neukölln, Kunstraum-ArtUhr




Foto: andreas böttger


- July 9th 2009
"KlangBildEnsemble ad Hoc", at KlangWelten ad Hoc, info-pdf, Kulturhaus Mitte


- 3th July to 5th July 2009:
"SPECTRUM" at Traumzeit-Festival Duisburg 2009
Traumzeit-Festival 2009 in Duisburg








- May 13th 2009
"KlangBildEnsemble ad Hoc", studio experimental
with Claudia Risch(sax, fl), Peggy Sylopp (live-video), Thomas Gerwin (perc., live-elec.), Giovanni Longo (live-elec.), Dietrich Petzold(vl)

Guests: Susanne Stelzenbach (P), Thorsten Bloedhorn (e-guitar), Alexander Frangenheim (db)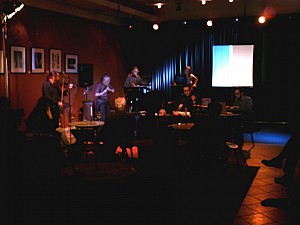 Foto: andreas böttger
at 8 pm in
exploratorium berlin
Mehringdamm 55 (Sarotti-Höfe), 1. Hof, 3. OG
10961 Berlin-Kreuzberg
U-Bhf. Mehringdamm (U6, U7)



- April 2th - 19th 2009
"SPECTRUM", Art Academy Lodz, Polonia (Akademia Sztuk Lodz)
Akademia Sztuk Pięknych w Łodzi


- March 26th - 29th 2009
"POLAR", Brotfabrik Berlin
Brotfabrik Berlin. within the interdisciplinary dance/music/video group OSC. A work in process-show, based on the concept of H_to_0.

See trailer at TANZ FORUM BERLIN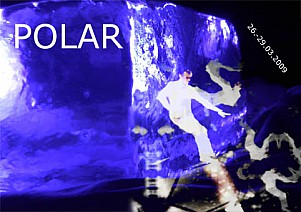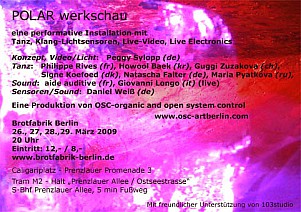 - Nomination for the German Sound Art Price 2008
29th October to 2th November 2008:
"SPECTRUM", SoundART COLOGNE 2008'''
SoundART COLOGNE 2008


- 31th August to 26th October 2008:
"SPECTRUM" at Skulpturenmuseum Glaskasten Marl

In the framework of our nomination for the German Sound Art Price the Skulpturenmuseum Glaskasten Marl presents from the sound light installation "SPECTRUM".
Deutscher Klangkunstpreis Marl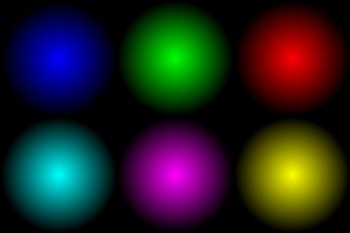 - 22nd to 27th of September 2008:
"Transient Mainstream" at Tweak Festival, Ireland

The interactive audiovisual installation Transient Mainstream is shown at TWEAK Festival in Limerick, Ireland.
- 3th to 8th Oktober 2008:
"Crackling Water", Urban Screens Melbourne 08

A video about Crackling Water (performative version with dancers) will be screened at the Urban Screens Melbourne 08 in Melbourne, Australien.


- 14th November 2008:
Live Performance in Ad Hoc improvisation orchestra, Klangkunstfest Mitte, Berlin
Location: Teehaus im Englischen Garten, Altonaer Str.1, 10557 Berlin-Tiergarten

Live video und electronics in improvisations orchestra at Klangkunstfest Mitte
Ad Hoc concert with:
Claudia Risch (Saxophon, Flöte), Iris Sputh (Tanz), Susanne Stelzenbach (Flügel), Thorsten Bloedhorn (E-Gitarre), Frank Halbig und Dietrich Petzold (Violine).